A travelogue 31st March 2023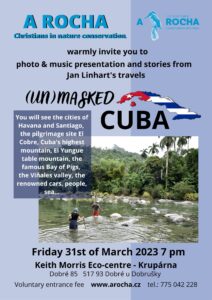 The A Rocha team warmly invites you to Jan Linhart's (de)masked Cuba travel presentation.
We will be happy to welcome you in our Keith Morris Eco-Centre – Krupárna in Dobré on Friday 31st March at 7 pm.
You will see the cities of Havana and Santiago, the pilgrimage site El Cobre, Cuba's highest mountain, El Yungue table mountain, the famous Bay of Pigs, the Viňales valley, the renowned cars, people, sea…
You can download the poster here.